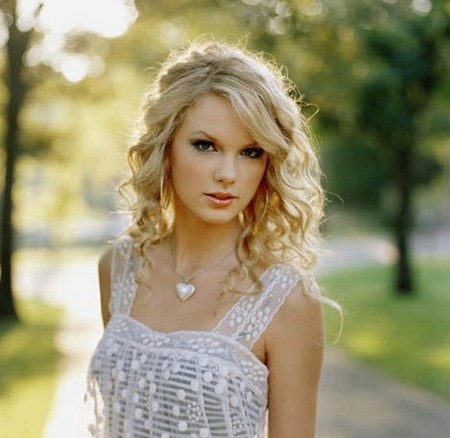 I was relaxing earlier today before class, and happened to have CMT on while I was doodling out some more thumbnails for design. I caught it right as it started, a documentary about Taylor Swift's career, how she started, and her current, 52 show 6-month tour. It was an hour long, but packed full of back-stage video, behind the scene information and a one-on-one interview with the 19-year-old star herself. 
She started as a young girl who loved to sing, and who at 13 I believe, nearly had RCA, a giant record company, to sign her for a record deal - however, they passed. She took a leap of faith by signing with a record company who's only foundation so far was a dream, but with that leap of faith came wings that helped her fly. 
Now, she's only 19, and is the youngest singer in history to be nominated CMT's "Entertainer of the Year", as well as have a platinum album and more hits blasting out the radio today. She still travels with her mother, whom she loves very much, has never had a drop of alcohol or a snuff of a cigarette in her life. She's never been clubbing, and still lives at home with her family in Tennessee. Her form of rebelling, which I thought was really cute, was the "high" she gets when  she's singing a song about someone, whether in a good or bitter fashion, and they're out in the crowd listening (since she's known for her personal, honest lyrics she writes herself, this is a unique characteristic that sets her apart). 
Taylor is mature when she needs to be, but still extremely laid-back. She's probably the sweetest, most humble superstar out there, and has branched the genres of "country" and "pop" to create an enormous fanbase. 
There needs to be more "Taylor's" out there, when it comes to entertainment and music. She honestly worked from the bottom up, and is simple a girl with her guitar and her own lyrics, singing to her heart's content -- or
vent
. She's far from industrialized and trashy, she's got her own style, her signature way of sharing her feelings about break-ups or love, but still manages to be fun and sweet, a perfect role model for young girls, and teenage girls, everywhere. 
Just from seeing how she is truly humble, and such a sweetheart, and liking her heartfelt music from the get-go, makes me like Taylor Swift even more now.
Yay, video time!