Helloooo ladies!
This was inspired from Cheryl's blog XD Cause I'm a copy cat
But hey, product reviews are uber helpful! I love reading when y'all post them, haha. So I'll try to remember to do some too XD
Pantene Ice Shine Shampoo/Conditioner
JAG PULL-ON JEANS
First I want to start off with my new favorite brand of jeans; JAG! I usually buy Gap since I'm picky with jeans and want good quality; however, I went with JAG this time, and I'm pretty impressed. They're slightly cheaper (in the $30-$40 range) so that's always a bonus. They fit perfectly if you get your right size, and flatter curves nicely; the kind I bought were pull-ons, so they don't have buttons or a zipper. They're essentially like jeggings, just way thicker, so they're not just tights. They have a control waist top which is GREAT for controlling the muffin top we all get sometimes XD
PANTENE ICE SHINE SHAMPOO + CONDITIONER
I try to mix up shampoos here and there, and I love the Pantene Brand. I went from moisturizing shampoo to this stuff, and I really like it! My hair feels super shiny and soft, and feels like it looks cleaner over a long span of time (I usually have to shower every day or else my hair seems oily; but this allows me to not have to wash my hair except every other day if necessary). I'm also starting to only use conditioner on the ends of my hair, which has helped a LOT with not having build up and gunk at my roots :)
MAYBELLINE COLOSSAL VOLUM' EXPRESS MASCARA
I try to mix and match mascara here and there, Maybelline seems to do me well. I don't notice a huge difference between mascaras, but, I like Maybelline's because they have a huge variety of difference kinds depending on if you want volume or lengthening. I usually like to pair this with fake eyelashes for a super dramatic effect :)
REVLON COLORSTAY LIQUID EYE PEN
Cheryl, this is the eyeliner I was telling you about -- I SWEAR by this stuff. Love, love, love it. I haven't used a different eyeliner since. I personally like the smokey brown or the charcoal black. Very deep, rich dark colors that last pretty much all day; I usually only reapply once and that's if necessary (for like cosplays/conventions with photos taken etc...) It seems to dry very well and doesn't smear. The only thing is, if worn day and day again it may "stain" a little bit; as in, not totally wash off. I've noticed even after a shower + using eye make-up remover, plus again in the morning, I'll still have some residue left. It usually doesn't both me too much; because when I want eyeliner, I KNOW it will stay on with this stuff.
MAYBELLINE INSTANT AGE REWIND DARK CIRCLES ERASER
I'm pretty sure Mattie did a product review of this once XD
But yes! Oh man. I lvoe this stuff. I'm a girl that never likes to wear foundation or concealer; I HATE having too much make-up on my face, some days, I just wear none at all. However, since this stuff entered my life, my goodness, I love it. I love that I can just brush it on and blend it in and it doesn't need foundation underneath, it matches my skin so perfectly and blends so smoothly. It literally does erase dark-marks too, and acne/acne scars. I honestly have no complaints except that I wish it was a tad cheaper :P
MAGAZINE REVIEW: SELF, DECEMBER 2012 ISSUE
I love this magazine! I honestly just picked it up because Kaley Cuco of Big Bang Theory was on it; however, I tore through it during bath and tea time. It has tons and tons of great tips for weight lost and healthy dieting, as well as practical and realistic dieting. It contains a diet plan that EVEN includes fast food/out to eat options (including Wendy's/Taco Bell, etc...) for the normal, every day diet, breakfast, lunch and dinner (obviously, the fast food options are only if you have to -- but it's cool they provide that option for lives on the go). There's also tons of weight loss tips, exercise routines step by step, and encouraging/inspiration facts and tidbits and testimonials to keep your mindset healthy a well. They also have segment on healthy financial living. It's all about being the best self you can be.
Downside is it is a "hip, trendy" magazine, so there is an article in there about sex and how it can keep you healthy, etc... as well as other cheeky stuff like that here and there. However, it's not bad at all compared to other magazines nowadays. I mainly just invest in the health/exercise portions.
BOOK REVIEW: THOU SHALL NOT USE COMIC SANS: 365 GRAPHIC DESIGN SINS AND VIRTUES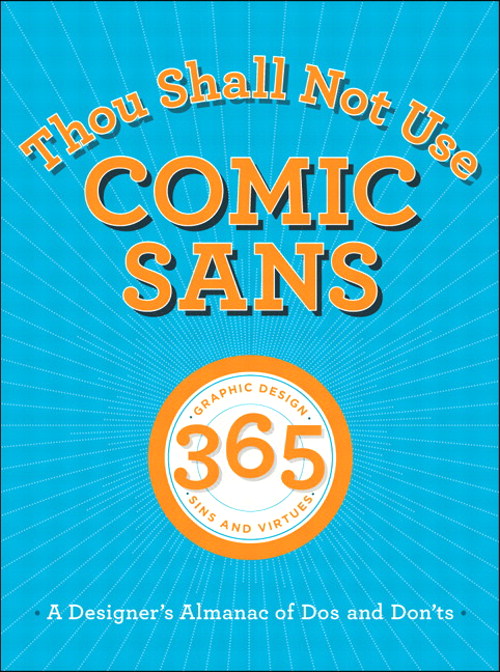 This is probably my new favorite book (well so far, haha) it's so funny! But also, informative. I'm not all the way through it, however, I can tell how the rest will be just by the first few pages. The formula is a "sin or virtue a day" kind of thing, with small commentary on the overall problem. However, the sarcastic tongue in cheek style of writing is charming, and the first sentence in the forward is about being a graphic designer who dropped out of school after four weeks; however, he wrote this ENTIRE book of advice just from his personal experience. It's all about the basics of type, what to do and not to do. Some contradict each other, but that's what graphic design is all about; following and breaking the rules.
It's a neat little guide to have, even for non-designers, to use type and type design as effectively as possible, or as it's meant to be used. :) It is a little heavy on design lingo/terminology, but, I think it's worth a read for anyone into the subject.
Thanks for reading everyone! :D